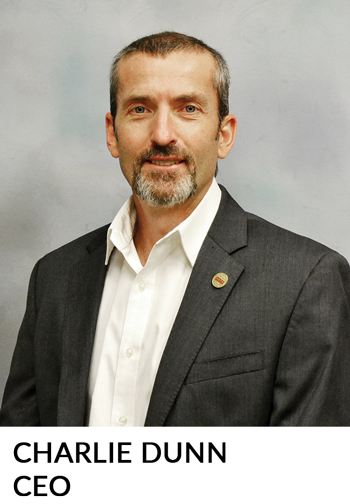 Every day, Farmers Electric is hard at work to make sure all our member-consumers have the electric power they need at the best possible price. And behind the scenes, we are working with a network of cooperatives to make that happen. 
Our cooperative is a member of Central Iowa Power Cooperative (CIPCO), a generation and transmission cooperative that supplies power to us and 12 other RECs and municipal utilities. CIPCO is structured with a board of directors representing each cooperative owner. For Farmers, Board President Dan Westphal serves as our voice on the CIPCO board. 
It also takes a lot of money to run an electric co-op, so when we need to borrow capital, we turn to either the National Rural Utilities Cooperative Finance Corporation (CFC) or CoBank. Both of these organizations are also cooperatives. CFC is owned by electric co-ops throughout the country, and CoBank is owned by electric and agricultural co-ops nationwide.
As you know, every month we generate an electric bill that we send to you either electronically or through regular mail. We use National Information Systems Cooperative (NISC) to process electric bills as well as provide you with SmartHub, your online portal to payment, energy use, efficiency tips and more. 
No business can operate without several different types of insurance, such as general liability, auto and workmen's compensation. So once again, along with other electric cooperatives across the country, we are members of Federated Rural Electric Insurance Exchange. This allows us to maintain reliable coverage at an affordable price.
Finally, Farmer Electric is a member of Touchstone Energy®, a nationwide alliance of more than 700 local, member-owned electric cooperatives in 46 states. Our participation allows us access to a wealth of informational materials. It also allows us to benchmark our performance in comparison with other co-ops so that we can learn from others as we constantly strive to serve you better. 
So, while you are a member of one electric co-op, you are actually connected to many other co-ops. And being connected to this cooperative network ensures your needs are met in the most efficient and cooperative way possible.