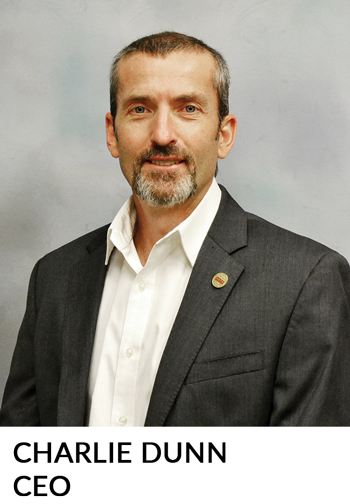 The smell of spring is in the air, but so is the threat of severe weather and tornadoes. In Iowa, both May and June are peak months for tornadoes due mainly to the greatest contrast between the cold air of winter and the warm, moist air of the approaching summer. Did you know that Iowa experiences an average of 50 tornadoes annually and is counted among the top 10 states with the highest incidents? 
These potential weather events can cause destruction to our electrical system, but I want you to know that Farmers Electric crews are ready and standing by to respond if or when power outages occur in our area.  
On a daily basis, our crews are monitoring weather conditions that can put them at risk as they work outside with little protection from the elements. This time of year, skies can transform from blue to black and conditions can change in an instant. Rest assured, our linemen are well-trained to take the utmost safety precautions in changing weather conditions. Following a storm and during power restoration efforts, our linemen are acutely aware of how to work safely to get the power flowing to your home again. 
According to the Iowa State University Department of Agronomy, the most likely time to spark a tornado in Iowa is 6 p.m.; there are very few before noon and after 10 p.m. No matter what time a tornado may strike, it's important to be prepared. Here are a few tips to remember: 
Touch base with family members who aren't home. Make sure they are aware of the severe weather threat and have a plan for keeping themselves safe. 
Make sure your cell phone, iPad or other electronic communication devices, or portable power banks are fully charged. 
DO NOT call 9-1-1 to report power outages. Call Farmers Electric at (800) 397-4821 if your power goes out or you see a downed power line. Calling 9-1-1 to report non-emergency issues like service outages can take resources away from other emergencies. 
Turn off lights and appliances, except for the refrigerator and freezer. When the power comes back on, there may be a momentary surge or spike that can damage equipment. 
Leave one light on so you will know when the power comes back on. Wait at least 15 minutes after power is restored to turn on other appliances.
Listen to local news or a NOAA Weather Radio for storm and emergency information and check in with Farmers Electric on our Facebook page or website for power restoration updates. We make a point to keep you informed every step of the way. 
After the storm, avoid downed power lines and walking through flooded areas where power lines could be submerged. Allow ample room for utility crews to safely perform their jobs, including on your property.
I hope we don't experience severe storms this summer, but we can never predict Mother Nature's plans. At your cooperative, we recommend that you act today because there is power in planning. From our co-op family to yours, we hope you have a safe and wonderful summer.